It may be a bit surprising for you to know that reducing fat does not mean reducing weight. Reducing fat is all about what occurs with fat cells.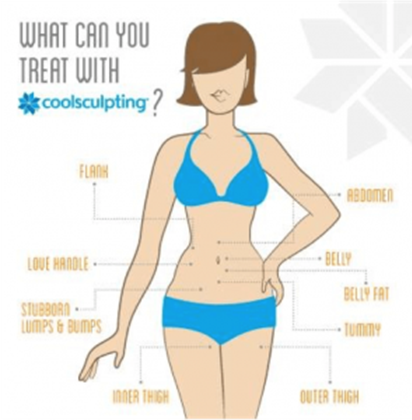 Image Courtesy: chelseacosmeticsmelbourne.com.au
Losing weight reduces size of fat cells, but weight loss doesn't eliminate fat cells.
The number of fat cells in one's body becomes a set number some time during their teenage years.
You may again be surprised to know that gaining or losing weight typically doesn't increase or reduce the number of fat cells; it only changes the size of fat cells.
Typical Weight Loss and Fat Cells
If you reduce weight with proper diet and exercise, your fat cells get smaller but their number remains the same. On the other hand, when you gain weight, your fat cells just increase in size, but not in number.
CoolSculpting and Fat Cells
Professional coolsculpting Melbourne from Chelsea Cosmetics Melbourne actually decreases the number of fat cells in the targeted area by around 20% to 25%.
The fat cells in your body are naturally treated and eliminated. Hence they won't get transported to another part of your body.
Also, unlike what other procedures do, there would be no change to your fat cells in areas that are not treated when you undergo coolsculpting.
As a result, processed fat cells are just gone! Thus those unsightly fat bulges begin to vanish, making you look more sculpted.
But after your coolsculpting procedure, your weight may not be reduced; but still, you'll look slimmer. And also your clothes will fit better, feel better and look better.
How was CoolSculpting Discovered?
Years ago, Harvard University researchers observed that some kids who ate popsicles developed dimples in their cheeks.
Two of the researchers, R. Rox Anderson, MD and Dieter Manstein, MD, realised that popsicles were first freezing and then eliminating small pockets of fat cells.
That's how the idea of coolsculpting came into existence that cold can target fat cells without harming skin or surrounding tissue.
How is Fat from Food Processed by Your Body?
When you eat fatty food, it travels through your gut and then to liver. Here it is processed to be used as a source of energy for your body.
Excess fat is stored in fat cells. Thus the size of fat cells increases and not their number.
How are Your Fat Cells Processed after CoolSculpting Treatment?
As mentioned earlier, your body has a set number of fat cells that only get smaller or bigger as you lose or gain weight.
When you undergo the coolsculpting treatment, your fat cells freeze and begin to die off. During the cell death process, these fat cells start to collapse.
Over the weeks after the treatment, other cells in your body consume the dead fat cells and process them naturally, and then those dead and processed fat cells are thrown out from the body.
CoolSculpting is Not for Weight Loss
Remember that the procedure of coolsculpting will not help you lose weight. However, it will help you lose unwanted fat and look thinner in your clothes.

Image Courtesy: chelseacosmeticsmelbourne.com.au
Interesting Facts about CoolSculpting
Although women and men tend to have fat in different areas, coolsculpting treatment works for women as well as men.
Depending upon which part you want to reshape, coolsculpting can help you get rid of the stubborn fat from those areas, such as abdomen, sides (love handles), inner and outer thighs, upper arms and chin.
CoolSculpting in fact reduces the amount of fat cells in the targeted areas.
Unlike a surgical procedure, coolsculpting has little to no downtime.
NewBeauty has recently awarded the coolsculpting procedure as "The Best Fat-Reducing Treatment".
Liposuction surgery Melbourne done by Chelsea Cosmetics Melbourne or other cosmetic clinic near you is also another great treatment you can consider for body contouring. Get these procedures done and live life with an increased confidence.